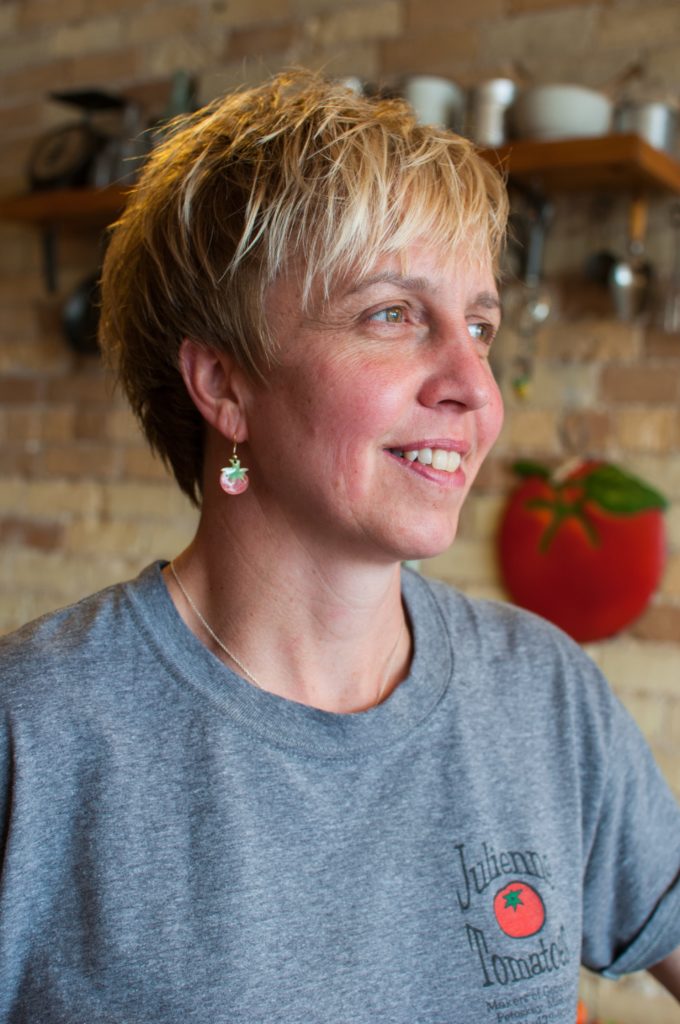 WAS JUST AN IDEA IN 2003
JULIENNE TOMATOES WAS FOUNDED ON THE BELIEF OF GREAT FOOD, FRESH BAKED GOODS, HOUSEMADE SOUPS AND SERVICE.
Julie Adams – Owner of Julienne Tomatoes can be seen often behind the counter taking your order, organizing catering orders, and bustling around the kitchen.
Known for greeting customers with a smile, and often remembering your favorite order.
WE ARE INVOLVED
WE ARE PROUD TO SUPPORT MANY ORGANIZATIONS WITHIN THE PETOSKEY AREA.
We are fortunate to conduct business in a tremendous community. One that is generous, friendly, beautiful and supportive. It only makes sense to do our part. "It is better to give than to receive", is an understatement. We see the benefits of giving everyday, and it feels good.
American Red Cross of Northern Michigan

Blissfest Music Organization

Great Lakes Chamber Orchestra

Hospice of Little Traverse Bay

Petoskey Rotary Club Charities

The Manna Food Project

The Women's Resource Center

Tip of the Mitt Watershed Council
The History of 421 Howard St
Suppliers to Julienne Tomatoes
Founded in 1996 to provide Petoskey, Harbor Springs and the Little Traverse Bay area of Northern Michigan with delicious unique bakery products.
Meeting the needs of West Michigan's restaurants Since 1924.
Higher Grounds Trading Company – Human-centered organic coffee
The sap from the maple trees surrounding Charlevoix, Michigan's Harwood Lake has been made into maple syrup by the Parsons family since the late 1800's.
"Simple goodness down to our roots." Visit our centennial farm (Est. 1874), for the seasons freshest produce, flowers, holiday trimmings. Located 2 miles S of Petoskey's big box stores on US-131 overlooking Walloon Lake.
Friends of Julienne Tomatoes
The Petoskey Regional Chamber of Commerce and its abundant programs that promote entrepreneurism, tourism, networking, and advocacy for area businesses. There are more than 750-members of the Chamber.
Working exclusively with non-profits of all sizes for over 20 years, this is the Official Charity Auctioneer for Julienne Tomatoes.
The Little Traverse Bay Humane Society is a non-profit organization promoting awareness and compassion toward all living things.
Promotes local farm foods, helps schools serve them, links new farmers to land, and other resources and supports food and farm business networks.
Family owned and operated farm located 5 miles north of downtown Harbor Springs, Michigan on scenic M119.
We are proud to participate in the Emmet County Recycling program. They help to keep our community beautiful.
Reduce, Reuse, Recycle.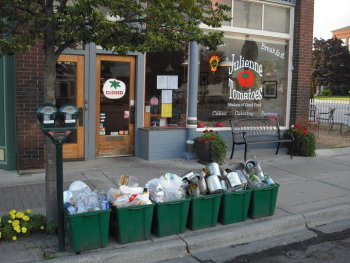 Dave Simcox
2021-09-30T22:19:35+0000
Great place for breakfast or lunch
Becky Dozhier
2021-09-26T00:17:31+0000
I love that you use Boar's Head deli meats. The California Club was fresh & amazing! By far the best sandwich I have

...

had in a long time. We will certainly stop back again 😊

read more
Kathy Warner
2021-09-25T16:43:59+0000
Great food and customer service! It's on our list of must stop to eat every time we vacation in Petoskey.
Grace Bono Van Hecke
2021-09-15T11:32:30+0000
Always a favorite when we are in Petoskey Excellent food and great service5 star plus!
Based on 119 Reviews

Michele M.
2019-10-18 06:58:43
This restaurant is an institution. Always great food and staff. I enjoy their house made soups and the Greek is my personal favorite salad. Always busy,...
Rebecca S.
2019-10-13 14:46:10
My 10 year old son still talks about the sandwich we had here. Regularly. We were here back in June! He craves it. He says it's one of the best things...